Program Overview
Introduced as a pilot program in 2022, the OneRED Leader Coaching Pilot Program is a highly personalized digital coaching program that allows leaders to become the best version of themselves. OneRED Leader Coaching provides 6-months of personalized 1-1 coaching and development that cultivates critical leadership skills and behaviors to maximize the potential of Rutgers staff leaders at all levels. The program combines coaching with dynamic digital experiences to accelerate development and growth and is designed to develop leadership skills built for lasting behavior change and impact. The OneRED Leader Coaching Pilot Program offers an individualized and scalable solution to develop strong leaders, propel performance, support well-being, and increase resilience and effectiveness to lead and thrive in today's environment. This serves to support the strategic direction, success, and sustained growth of the university.
The second cohort of the program will begin in October 2022. 
How Are These Services Delivered?
Rutgers has partnered with BetterUp to bring together world-class coaching, AI technology, and behavioral science experts to deliver change at scale — improving individual resilience, adaptability, and effectiveness. BetterUp uses technology and science to enrich the coaching experience, empowering people to learn new skills, conquer their goals, ignite fresh passions, and become the best version of themselves.
How are Coaches Identified and Matched?
BetterUp has a robust global network of 1,000+ passionate ICF-certified, rigorously trained coaches with the experience and training to bring out the best in each person. Only 8% of applicants pass the screening process and there is a 98% coaching satisfaction rate.
3 Coach options will be suggested that are tailored to an individual leader's goals and needs. The leader will review the background, experience, capabilities, and qualifications for each and select the Coach that feels right for them.
Each leader meets one-on-one with their coach, focusing on highly personal growth areas, leading to lasting transformation. The Coach will help the leader identify, understand, and own their strengths, so they feel empowered to reach their full potential.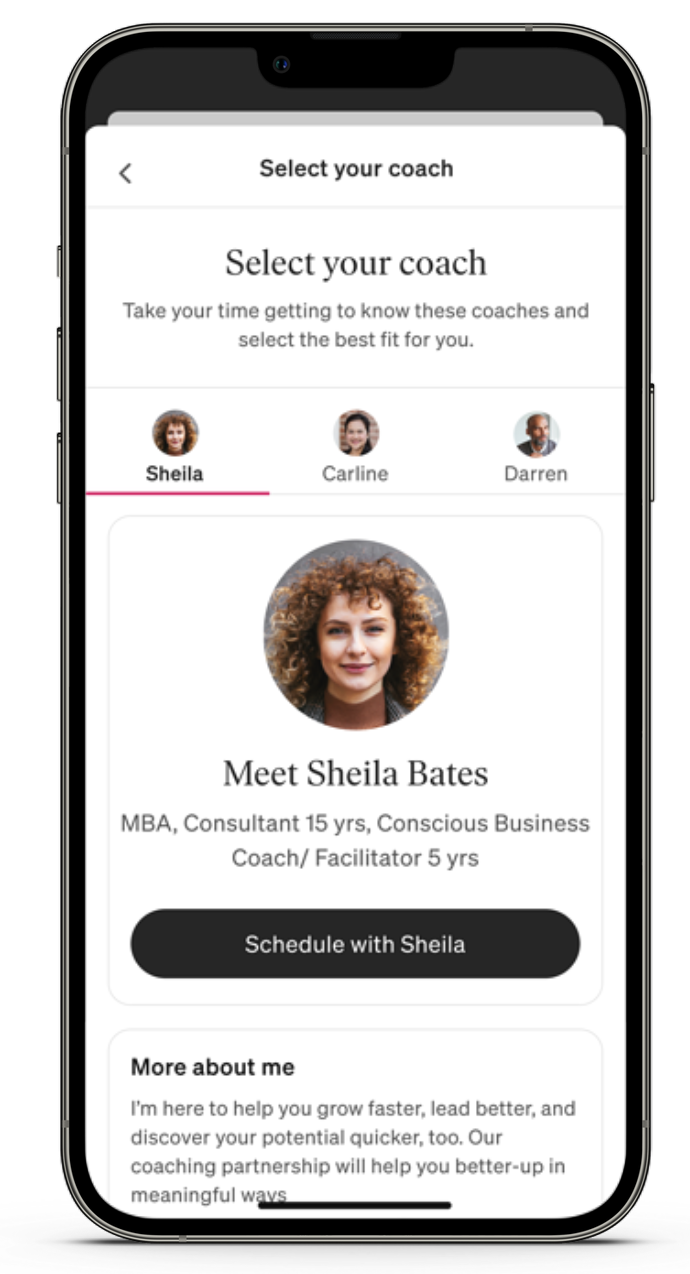 What Can Leaders Expect?
The OneRED Leader Coaching Pilot Program:
Provides 6-months of unlimited, personalized, confidential, 1-1 executive coaching to Rutgers leaders at all levels
Combines coaching with dynamic and personalized digital experiences to accelerate leaders' development and growth through a virtual leadership development platform
Is designed to develop leadership skills, built for lasting behavior change and impact
Offers an individualized and scalable solution to develop strong leaders, support overall well-being, increase resilience and effectiveness to thrive and lead through change and ambiguity
Gives Leaders access to:

World-class expert coaching
Personalized continuous learning and development
Micro-learning activities
Anytime, anywhere support
Actionable insights and measurable results
What are the Benefits of Participating?
Through participation in the program, Rutgers leaders will:
Gain support from a coach that guides and empowers them to thrive as individuals and inspire as leaders
Develop mindsets for growth and transformation
Foster self-awareness and introspection
Build core leadership skills and behaviors, aligned to Rutgers leadership competencies, to equip them as they navigate critical leadership moments
Gain insights from one-on-one, specialist, and on-demand coaching and an extensive library of resources to propel performance and well-being
Reduce stress levels, increase resilience, increase social connections
What Can Participants Work on with Their Coach?
Increasing self-awareness and empathy
Developing better decision-making skills
Improving prioritization and goal setting
Improving ability to navigate conflict and improve workplace relationships
Expanding their impact and amplify their leadership skills through open communication, feedback, listening, and driving influence
Creating work-life balance that helps them feel more balanced
Building resilience while learning how to navigate challenges
What are the Eligibility Criteria?
We encourage you to submit nominations for leaders that meet the following criteria:
Currently hold a position at the level of Associate Director or above
Have at least one year of Rutgers service
Have consistently demonstrated a strong level of performance
Be recognized as having "skilled" proficiency in the Rutgers leadership competencies as defined by the non-aligned Performance Management process
Have a proven track record of leadership success as a strategic contributor in areas considered critical to the overall mission of the university, and
Be considered as having high capacity for future growth and impact at the university
Fall into one of the two categories for Coaching:

Newly Appointed Leaders – to support leaders who have taken on a new assignment or challenging project and/or prepare leaders for current or future expanded responsibilities
Existing Leaders – to support the development of leaders that include the following:

High-Potentials/High-Performers
Leaders leading critical aspects of the university
Leaders leading large teams
Support development of leadership skills and behaviors
How Do I Nominate My High-Potential Leaders for Participation?
150 leaders will participate in the pilot of the OneRED Leader Coaching Program over a period of 12 months. The OneRED Leader Coaching Pilot Program is highly competitive and selective. Each group is carefully selected to achieve a diverse and representative cohort.
We will be accepting nominations for the October 2022 group of participants shortly.  Check back soon for more information.